Leg Workouts At Home for Women– The legs of a woman are a very important part of the body when it comes to having an outstanding look. But, without proper exercising and a healthy diet, there can be an accumulation of fats on the legs, debasing the beautiful and feminine lines of the body.
But, with some diet improvement through healthy foods, plenty of clean water, and adequate exercising; you can have a toned leg in no time and get rid of stubborn cellulite. 
Anyone can perform leg workouts at home and have legs that look amazing without necessarily having to visit the gym.
Irrespective of whether you would like to tone the upper part of the entire leg, the following exercises will be of immense help:
7 Best Leg Workouts At Home for Women to Lose Fat and Tone Legs without Weight
1. Squats
The squats are, without doubt, the best leg workouts at home that anyone can do with ease, for an intense workout of the legs. Why are they so efficient?
Well, believe it or not, when performing squats it would be like running or jumping.
The muscles in your legs will take the same intensity and effort of jumping and jogging, making your leg muscles contract and relax, which will strengthen your muscle fibers and reduce fat.
How To:
A correct squat would be to stand in a straight upward position, with your feet aligned with your hips.
While maintaining the back straight, bend your knees just like you intend to take a seat.
 Lower your hips and bottom as much as you can, trying to picture an invisible chair.
Once the maximum position is reached, slowly straighten your legs and go back to the initial position. Repeat the exercise for a few minutes.
2. Forward and Backward Lunges
Many leg workouts at home may include the traditional lunges, but if you want to burn fat fast, you need to take your workout to another level.
How To:
The forward and backward lunge assumes that starting in a straight position, you will take one step back and take the lunge position, just to push forward and get into a forward lunge.
Then, you will continue by pushing backward, performing a reverse lunge and repeat the exercise by getting back to the forward lunge and so on.
 It will be intense but it is just what you need for toned legs.
3. Side Lunge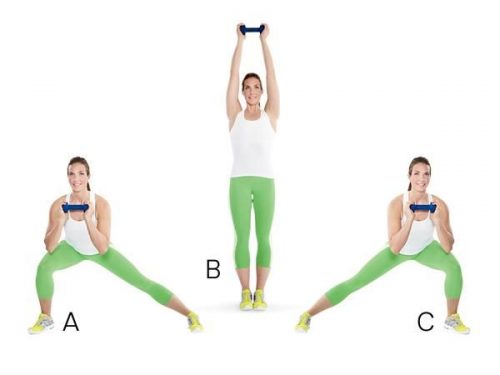 There are many types of lunges when it comes to performing leg workouts at home, but this one must be on your list because it is very efficient in working out your leg muscles.
How To:
You'll have to start by sitting up, with your legs spread apart wider than the edge of your hips.
Continue by making one step to the side, as far as you can, while also lowering your body toward the ground.
Keep the other leg straight, while the leg you moved should have the knee bent to support the weight of your body while you are lowering it.
 You will know that you do this right when you feel your leg is stretched straight.
 Once you reach the maximum position, push your bent leg to return to your initial position. Change the leg and repeat the exercise. Repeat this severally with each leg.
4. Wall Sit
How To:
Place your back against a wall and spread your legs so that they are aligned with your hips.
Continue by spreading your legs a bit more and lowering your body toward the ground until your thighs are parallel to the floor.
Once you assume this position, try to hold it as much as possible, starting with 30 seconds and going up to 60 seconds.
Do not put your hands on your thighs. Keep them over your head or along your body throughout the entire exercise.
This is one of those of leg workouts at home that will indeed push your leg muscles.
5. Jump Squats
We mentioned earlier just how important squats are for toning legs, so we could not ignore this exercise.
How To:
Stand up straight and spread your legs as wide as your hip line.
 Bend your knees and lower your body to the ground, then, from this position, try jumping as high as you can, making sure to land softly.
A correct exercise is when you are able to see the tip of your sneakers while performing the exercise.
 If you can't, you will just have to shift the weight of your body backward a little.
 Do several repetitions of this exercise.
6. Abduction Leg Workout  at Home
Please note that this part of leg workouts at home has nothing to do with aliens.
How To:
To perform abduction, you will just have to lie down on one of your sides, lifting the leg that is on top as high as you can.
 Once you touch the highest point, lower the leg slowly, with control, feeling your muscles move while doing this.
 You can use ankle weights to make this exercise more challenging if you want.
 Turn on the other side and repeat the exercise with the other leg as well.
Perform several reps on each side.
7. Walking Lunges
Having beautiful legs is heavily dependent on how well you do leg workouts at home.
Walking lunges is, however, one exercise you can do anywhere and at any time.
How To:
To perform this exercise, place your hands on your hips or use them to hold dumbbells on each side of your body.
Take one big step forward, while bending the knee of your other leg to the ground.
The distance between your legs should be as further away as possible, like trying to take giant steps, in the form of lunges.
 Make another step by taking your back leg and placing it in the front, the leg that is falling behind should now have the knee bent to the ground.
Make as many steps this way as possible.
NB – Between each exercise take at least 2-5minutes break.
For additional information watch this video from womenworkoutchannel
Share this post, if you like it!